Wright County Fair Queen Contest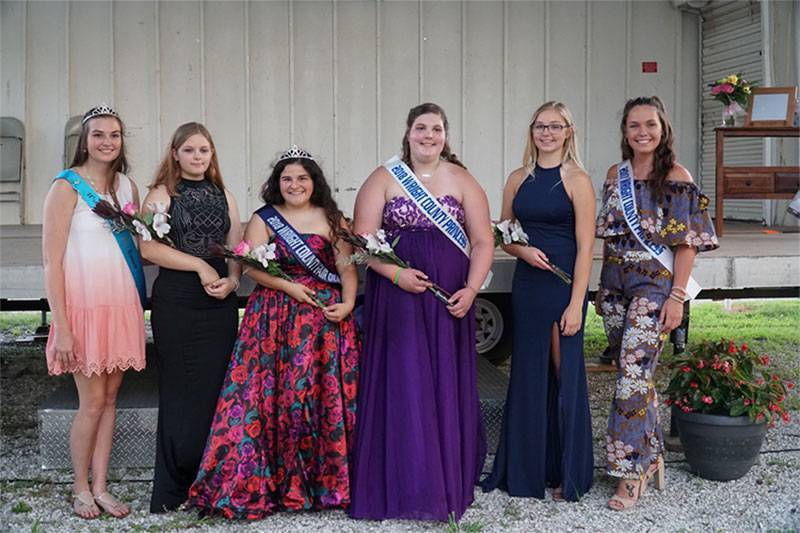 2018 Court
L to R: 2017 Queen Danielle Koester, Gemma Pohlman, 2018 Queen Mariana Gonzalez, 2018 Princess Jane Roberts, Hayleigh Fishburn, 2017 Princess Jarika Eisentrager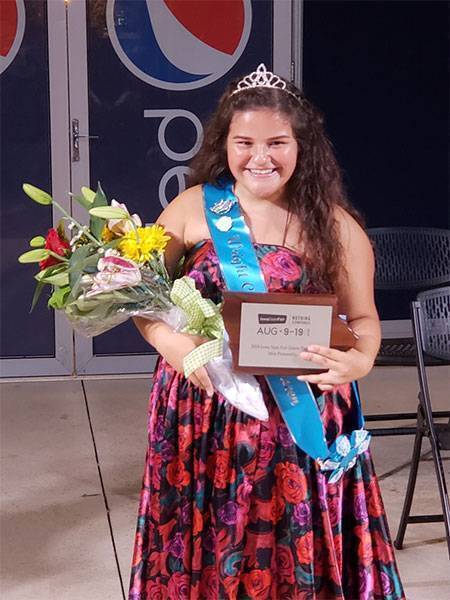 Congratulations to Mariana Gonzalez for being selected as the 2018 Miss Personality at the Iowa State Fair Queen Competition.
Wright County Fair Seeking Queen Candidates
The Wright County Fair board is currently receiving applications for this year's Fair Queen Pageant. The Queen will receive a $500 scholarship from Humboldt Mutual Insurance Association in addition to gifts and a trip to the Iowa State Fair Queen contest sponsored by the Wright County Fair Board. The contest is open to Wright County females that are at least 16 years of age but not more than 21 years of age on August 11th this year. It is not necessary for applicants to be 4-H or FFA members. The judging, selection and coronation will all take place on Wednesday, July 11th – the first day of this year's fair. Both the queen and princess have duties throughout the July 11th -16th fair; therefore applicants must be available to attend the entire fair.



Applications are due June 1st.


For questions contact Kim Heller at ksaiowa@gmail.com or 515-851-2019.
Committee: Kim Heller, Olivia Huntley, Superintendents
Jenny Kreitlow and Lisa Hill, Committee Members
The Wright County Fair Queen and Princess will have responsibilities throughout the entire Wright County Fair July 11-16. Contestants must be able to attend the entire fair.


All contestants will be expected to participate in the fair parade on Wednesday, July 11 which precedes the coronation on the Fair's Free Stage.


The Wright County Fair Queen will be a guest of the Iowa State Fair, Tuesday, August 7 through the time of the State Fair Queen Coronation, Saturday, August 11. Contestants must be able to attend this commitment. It is the responsibility of the queen to make travel arrangements to Des Moines, however expenses for the experience are paid by the Fair Board.


Each contestant must be at least 16 years of age and not more than 21 years of age on Thursday, August 9, 2018 (the first day of the 2018 Iowa State Fair).


Contestants must never have been married or have had children.


Contestants must reside in Wright County or in an adjoining county if the majority of her activities are in Wright County.


Each contestant must be an active member of at least one worthwhile organization in her community, e.g. church groups, Girl Scouts, 4-H, FFA, etc. Eligibility is not limited to 4-H or FFA membership.


No professional model is eligible for the Wright County Fair pageant.


Contestants will be selected by a panel of judges on Wednesday, July 11 beginning at 3:30 p.m.


The judges will select the royalty based on:

a. Personality, Attitude, Appearance, and Awareness
b. Leadership and Citizenship – Contribution to Community
c. Overall Appearance, Charm and Poise



The judges will view each contestant in fair attire, and an evening dress.


Additional stipulations by the Iowa State Fair apply should the Wright County Fair Queen be crowned Iowa State Fair Queen. See the Iowa State Fair rules at www.iowastatefair.org