Wright County Fair Queen Contest
Wright County Fair Queen Contest
Julie Schreiber, Superintendent
Committee members: Paige Grandgeorge & Jenny Kreitlow

The official entry form can be found on the Wright County Fair website
1. The Wright County Fair Queen & Princess will have responsibilities through the entire Wright County Fair, July 12-16. Contestants must be able to attend the entire fair.
2. All contestants will be expected to participate in the fair parade on Wednesday, July 12, which precedes the coronation on the James R. Johnson Stage.
3. The Wright County Fair queen will be a guest of the Iowa State Fair, Tuesday August 8 through the time of the State Fair Queen Coronation, Saturday, August 12. Contestants must be able to attend this commitment. It is the responsibility of the queen to make travel arrangements to Des Moines, however, expenses for the experience are paid by the Fair Board.
4. Each contestant must be at least 16 years of age & not more than 21 years of age on Thursday, August 10, 2023 (the first day of the 2023 Iowa State Fair).
5. Contestants must never have been married or have had children.
6. Contestants must reside in Wright County or in an adjoining county if the majority of her activities are in Wright County
7. Each contestant must be an active member of at least one worthwhile organization in her community, e.g. church groups, Girl Scouts, 4-H, FFA, etc. Eligibility is not limited to 4-H or FFA membership.
8. No professional model is eligible for the Wright County Fair pageant.
9. Contestants will be selected by a panel of judges on Wednesday, July 12 beginning at 2:00 pm.
10. The judges will select the royalty based on:
a. Personality, attitude, appearance, and awareness
b. Leadership and citizenship - contribution to the community
c. Overall appearance, charm, and poise
11. The judges will view each contestant in fair attire and an evening dress.
12. Additional stipulations by the Iowa State Fair apply should the Wright County Fair Queen be crowned the Iowa State Fair Queen. See the Iowa State Fair rules at www.iowastatefair.org.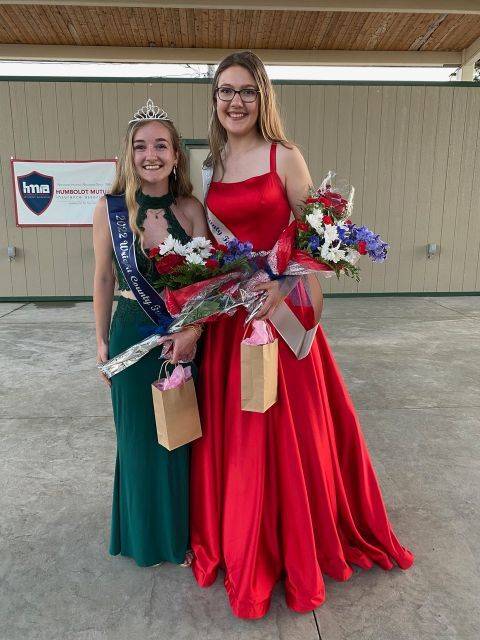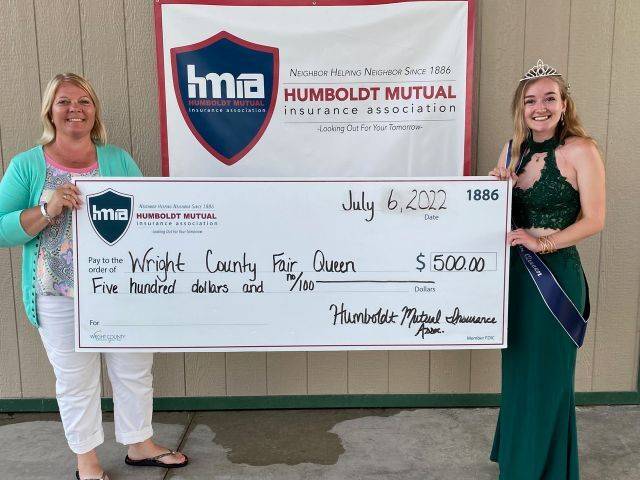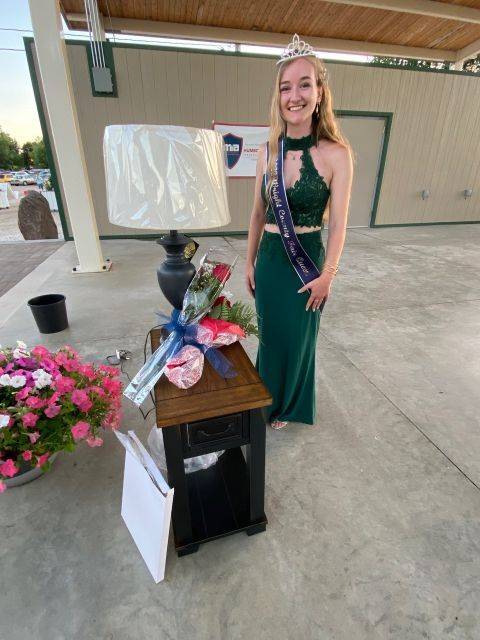 Congratulations to our 2022 Wright County Fair Royalty!!
Paige German, Wright County Fair Queen
Kara Legleiter, Wright County Fair Princess

Thank you to Humboldt Mutual Insurance for the $500 Scholarship awarded to Paige!!